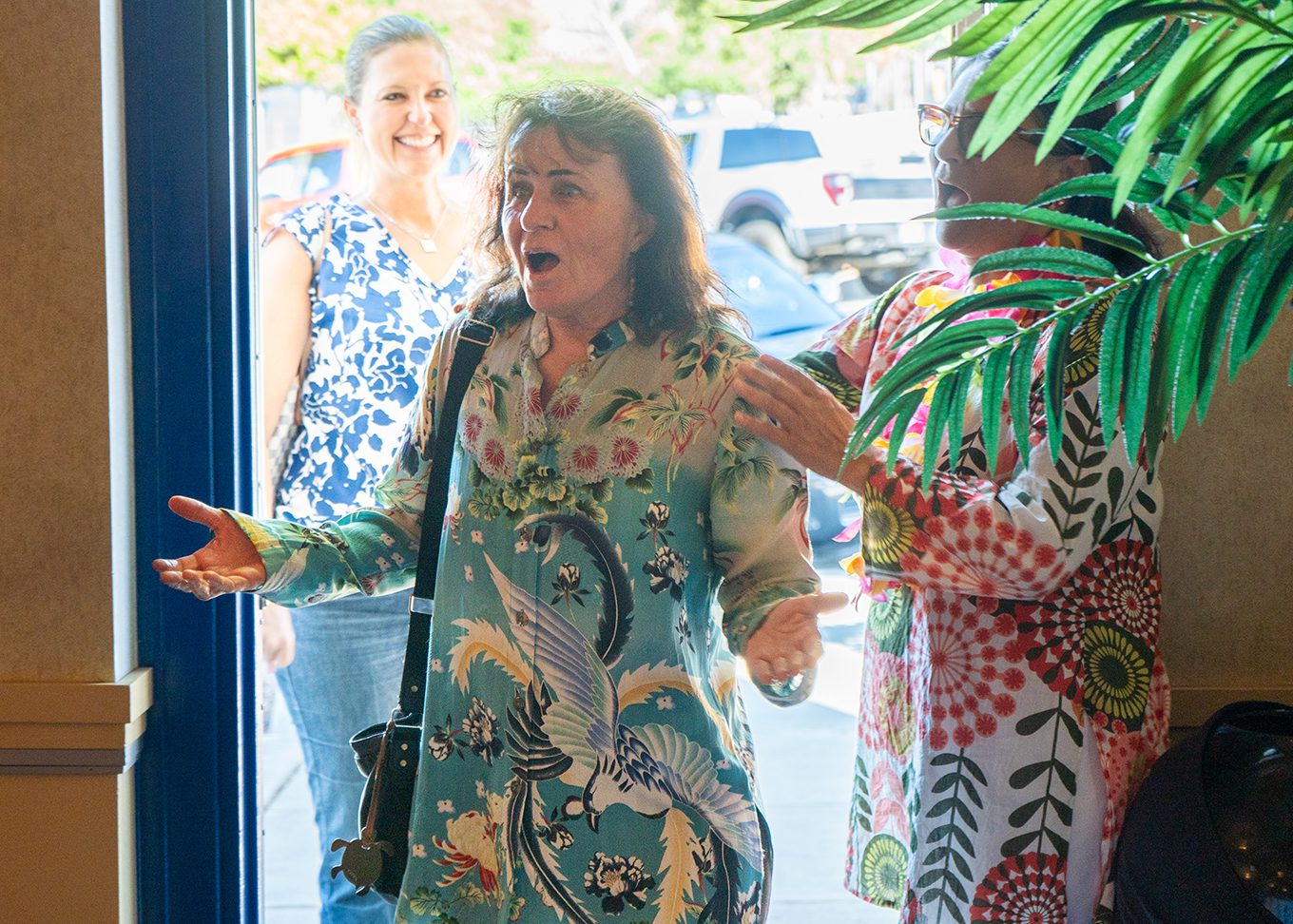 PRESCOTT – Darla DeVille, APS Community Affairs Manager, walked into the Hassayampa Inn on Thursday, Sept. 7, to a colorful display of leis, Hawaiian shirts, and chants of "Darla, Darla, Darla!"
The surprise party, hosted by Yavapai Big Brothers Big Sisters and sponsored by APS and the Hassayampa Inn, honored DeVille's over-10 year commitment to Yavapai County. Nearly 100 family, friends, and community members from government, business, private, and nonprofit agencies joined the event.
The party also kicked off the creation of the Darla DeVille Luau fund. This fund will be used to support the Bigs and Littles of Yavapai County at an annual Darla DeVille Luau. "This event will continue to reflect DeVille's spirit of Aloha as a time for our Matches to come together to celebrate the power of mentoring and the exciting futures of our Littles," shared Erin Mabery, Executive Director of YBBBS.
"We are so grateful for the support of our community and their recognition of Darla's impact on our county. We will share a portion of the Luau fund donations from this event with our sister affiliate in Maui, HI, as they rebuild their community after the devastating wildfires. Going forward, this fund will support our Big and Little luaus each year for both sides of the Mingus – as Darla would say – and we look forward to spreading the Aloha spirit right here in Yavapai County."
DeVille, past chairperson of the YBBBS board, was honored with emotional speeches, and Hawaiian-themed food, and was treated to a special dance by Big Brother and YBBBS board member, Eric Costanios.
"The spirit of Aloha is alive and well in Yavapai County," said DeVille. "It is in the true spirit of Aloha that we care for one another and the youth of our community …Yavapai Big Brothers Big Sisters supports the entire county and partners with so very many other agencies and businesses. We are big, professional, intentional, and meaningful! A new fund honoring that spirit of Aloha is extremely humbling and we hope our community and beyond embraces the spirit of Aloha and gives with their heart."
"For everyone who attended, it was moving to hear your memories and kind words. In her time at APS, Darla has touched every nonprofit, municipality, and more across our vast county. And I think she was right in saying that the praise showered on her reflects our community's generosity," said Mabery.
Donations for the fund are being accepted anytime during the year. Click here to contribute.
Yavapai Big Brothers Big Sisters is a donor and volunteer-supported organization. The service area encompasses 20 communities and 65 schools throughout Yavapai County and Sedona, with two offices in Prescott and Cottonwood. The agency operates under the belief that inherent in every young person is the ability to succeed and thrive in life and makes meaningful, monitored matches between adult volunteers (Bigs) and young people up to age 24 (Littles).
Research proves that, compared to all other young people their age, youth matched with a Big Brother or Big Sister perform better in school, avoid violence and illegal activities, and have stronger relationships with their parents and others. For more information, visit azbigs.org.
Video: https://www.youtube.com/watch?v=Ki5Q2mYcLcU Credit: Brian Bergner, Jr./YBBBS
Photo Gallery: https://kgphotography.zenfolio.com/p544307130 Credit: KG Photography