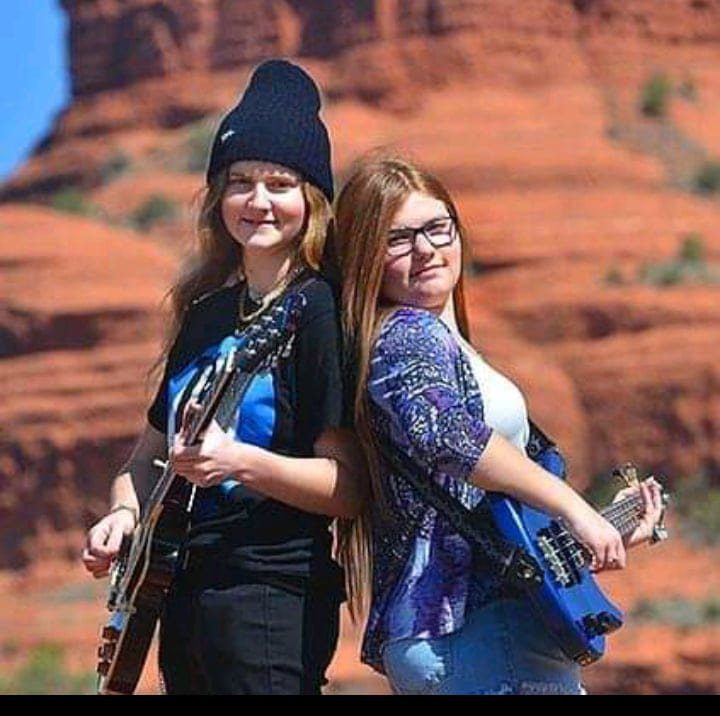 PRESCOTT – This fall, Yavapai Big Brothers Big Sisters (YBBBS) is partnering with Kaleidoscope Redrocks, a multi-instrumentalist duo for a fundraising concert.
Sedona sisters, Gracie, 17, and Tivona Moskoff, 14, share playing guitars, bass, drums, ukulele, and keyboards, as well as singing in "harmonies only sisters can create," as expressed by a show-goer. Their music offers a wide range of genres from classic rock, country, folk, pop, patriotic, punk, and originals.
"It would be an honor, privilege, and pleasure for us to perform a show to fundraise for Yavapai Big Brothers Big Sisters at our favorite venue in Prescott, Lyzzard's Lounge, owned by Russell Roberts," shared Gracie and Tivona.
Kaleidoscope Redrocks will perform at Lyzzard's Lounge in Prescott from 3 to 5 p.m., on Sunday, Oct. 29, for the Halloween-themed fundraising event with raffle items. PRIZES for the 1st, 2nd, and 3rd best costumes will be given after the show. 100% of the raffle proceeds and tips will be donated to benefit YBBBS. The venue is located at 120 N. Cortez St.
Yavapai Big Brothers Big Sisters is a donor and volunteer-supported organization. The service area encompasses 20 communities and 65 schools throughout Yavapai County and Sedona, with two offices in Prescott and Cottonwood. The agency operates under the belief that inherent in every young person is the ability to succeed and thrive in life. As the nation's largest donor and volunteer-supported mentoring network, Big Brothers Big Sisters makes meaningful, monitored matches between adult volunteers (Bigs) and young people up to age 24 (Littles).
Research proves that, compared to all other young people their age, youth matched with a Big Brother or Big Sister perform better in school, avoid violence and illegal activities, and have stronger relationships with their parents and others.