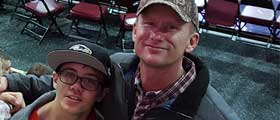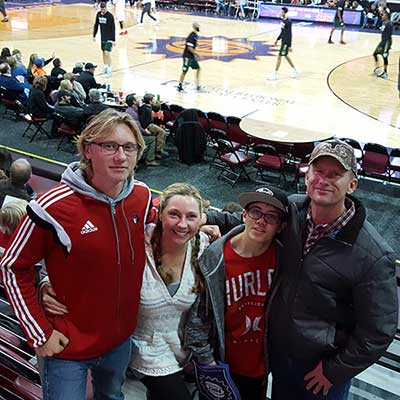 What started just over two years ago as a school match has become much more for Big Brother James and Little Brother Dylan, because now James' wife, Sarah, and three sons have made it a family match.
James started meeting once a week with Dylan at his elementary school in Prescott Valley, and with assistance from Dylan's teacher, helped the Little achieve honor student status.
"Dylan told me having a positive male role model made the difference," James says, including his sons, now 17, 20 and 23, in that designation. "They made it easy to connect with Dylan."
Dylan agrees. Now a 13-year-old seventh grader, Dylan says he doesn't know how to put it into words, but the match relationship is "pretty good." He wanted his mother to sign him up, because he "thought it would be a really cool experience."
A usual meeting for the match includes food – especially hamburgers, one of Dylan's favorite meals. They even grill together, but Dylan says James is the expert at knowing when to flip the burgers. They like to toss around a football, or go bowling or fishing.  James says Dylan usually wins when they play cards, chess or checkers. A recent addition to their activities is attending Northern Arizona Suns games.
James and Dylan have intensified their involvement with Big Brothers Big Sisters by encouraging the county's 13 law enforcement agencies to join Bigs in Blue. They frequently speak to different agencies about the program, using James' 22 years' experience as a law enforcement professional.
"My experience as a school match strengthened the bond with the school and gave kids the opportunity to see police in a different light, in a way they'd never seen before," James says, noting that's what Bigs in Blue can do, as well.
Dylan's mom, Diana, says that Dylan didn't have a bad life, but he has no contact with his father, and her son's attitude since Yavapai Big Brothers Big Sisters matched him with James has changed drastically.
"The young man he has become has just blown me away," Diana says.
James and Dylan appreciate the support from community members who have donated Arizona State Tax credits to make possible matches like theirs. Anyone interested in contributing financially, or in becoming a Big or referring a Little can call 928-778-5135.  YBBBS has many other ways folks may get involved. Discover today how you can change a child's life – and your own – for the better. Forever.