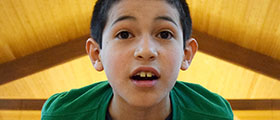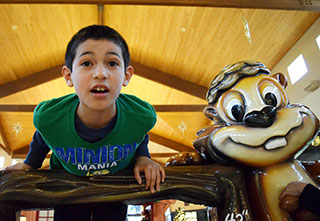 The lucky Big Brother who gets Pedro as his Little had better be ready for lots of exercise, fun and games, because this 8-year-old is a human dynamo.
Pedro's favorite game is kickball. When asked what else he likes to do, he grins and answers, "kickball with a soccer ball!" His mom says Pedro also rides his bike, plays soccer and builds with LEGOS.
He has an adult brother living independently, but Pedro lives in Prescott with a household of females, including his mother, grandmother, teenaged sister and two baby sisters. His father is not in the picture.
"I have no one to play with," Pedro says.
The third-grader is good with math and likes to read, too.  He gets excited when talking about a school project that allowed him to build with electronics and robotics. A Big could ask Pedro for specifics on the horn that honks and turns on a fan, light and timer.
Pedro also speaks with authority on a video game that features Nazi zombies, ray guns and toxic materials.
If you can't wait to be Pedro's Big Brother, call Yavapai Big Brothers Big Sisters at 928-778-5135, or if you can't be a Big, how about supporting a Big? The Arizona State Tax Credit is one way. YBBBS always can use volunteer office help and has other ways people can be involved, as well. Don't hesitate – call today. You'll be glad you did.