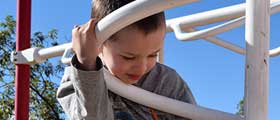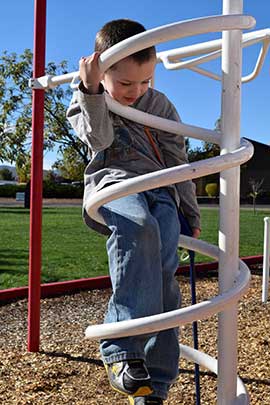 Gage's mom says he's "all about any outdoor activity." She also says "he needs a friend." A Big Brother could be just that to this almost-seven-year-old bundle of energy. (His birthday is right before Christmas.)
Besides being outside, Gage loves animals and all living things. He collects roly polies (pillbugs) and covers them with tissues to get them to sleep, just like tucking them in bed.
Gage lives in Prescott Valley with his mother and an older brother, who recently was matched with a Big Brother. He has occasional contact by phone with his father in Kansas.
Gage works with a speech therapist, but he can slide the word, "Animatronic" out of his mouth with no trouble. He loves to play that one and other video games, such as Minecraft, or anything with his favorite Minions. His mom says Gage has limited focus and is more of a Chutes and Ladders than a Yahtzee type of a board game player. Also, he connects more easily with adults than with other children.
The first grade student would like it if a Big Brother would help him build ships out of LEGOS, or color pictures with crayons. And if the new Big likes to climb trees, all the better.
Anyone interested in becoming a Big to Gage or another child can call 928-778-5135, or  if you can't be a Big, how about supporting a Big? The Arizona State Tax Credit is one way to do so. Yavapai Big Brothers Big Sisters always can use volunteer office help and has other ways people can be involved, as well. Go ahead – pick up the phone and call today. You'll change your own life and the life of a child for the better. Forever.