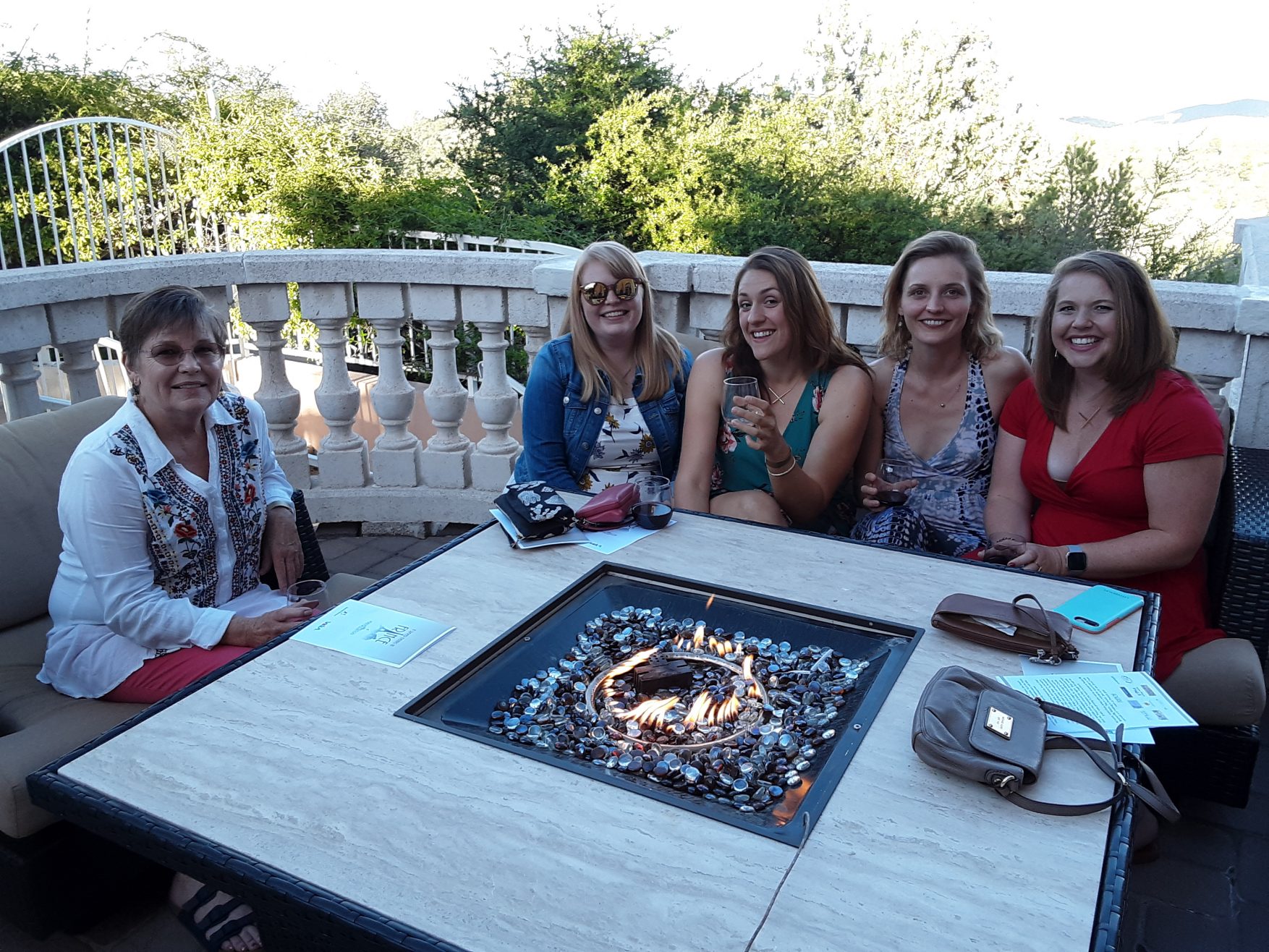 A Summer Evening in France at Forest Villas Hotel, in Prescott, brought the flavor and sounds of France to a crowd on Sept. 1. The event, benefiting the children of Yavapai Big Brothers Big Sisters, raised funds to match two children waiting for a Big Brother or Big Sister.
The evening included French appetizers, wine and music by the Voila Tour, led by Alain Houze. Musicians Belen "La Parisienne" with accordionist Christophe Oury, guitar and keyboard player Manu Prybis, vocalist and harmonica player CadiJo, provided music on three stages.
Big Brother Richard Maranville and his wife, caterer Debbie Maranville of Goods From The Garden, also provided guests with delicious passed hors d'oeuvres.
Several local merchants created an enchanting French market in the Forest Villa's Courtyard. including fresh flowers, creative jewelry and artisan chocolates. Guests were transported to the streets of Paris and the famous sidewalk merchants.
Businesses featured included French Hen Boutique, Allan's Florist and owner Rakini Chinery, a YBBBS Woman of Influence, Bella by Leah, B-JWLD, Sunflower Photo Booth, Huckeba Art Gallery, Black Butterfly Artisan Chocolate, Pampered Persona, UltraWater Bar Health Store, Classy –N– Sassy and Penduers.
"Thank you Voila Tours, Forest Villas Hotel, the French Hen Boutique and all of our community businesses that supported A Summer Evening in France – a wonderful evening benefiting the children of Yavapai Big Brothers Big Sisters," said Juliana Goswick, CEO and President of YBBBS.
"It was a beautiful night as community gathered to enjoy the culture of France and hear the important stories of our work. As a result of this great event, two additional children in our community will now know the life-changing friendship of a Big Brother or Big Sister – all because of our caring community partners. Now that is powerful support!"
YBBBS and Forest Villas Hotel also thanks Stand for Prescott and their supporters, who donated funds to the event.
"The Forest Villas Hotel was honored to host not only Voila Tour members from France but delighted to help raise money for our local Big Brothers and Big Sisters," shared Forest Villas Hotel General Manager Jane Lenci.
To add some extra fun to the evening, models from the French Hen Boutique strolled through the crowds wearing the latest fashions available at the Prescott store at 108 S. Montezuma St. Owner Tracy Homer is a YBBBS board member. Her models included board member Rita Cavanaugh, along with Karen Morse, Joanne Coppage and Deb Ball.
"I was thrilled we were able to raise enough funds to match two children for Yavapai Big Brothers Big Sisters at this event. Everyone pitched in to make the evening a great success. Thank you to our guests for being there," said Cecelia Jernegan, Forest Villas Hotel public relations consultant.