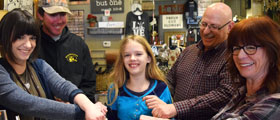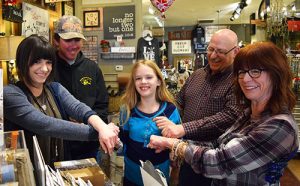 Courtney, 11, has been matched for the last six months with a Prescott family: Parents Daniel and Sara and their adult daughter Amanda, along with Amanda's boyfriend, Ryan. "We're all best friends," Courtney says. "Every time I meet them it's just fun, fun, fun!"
Daniel, with the Prescott Police Department, and Sara, have owned a gift shop in Prescott for nine years, and it's one of Courtney's favorite places to hang out.
In addition to being Bigs, the family is big on giving back to the community, and Courtney happily participates. On Christmas Eve, the sixth-grader dressed as an elf and helped with the family's annual event, handing out toys in Tempe where Dan had a 20-year police beat. "It's something positive," Dan says, as Amanda adds, "It can have a positive impact on their lives."
Courtney's dad is raising her and her older brother, who is matched with a Big Brother. Her dad and both kids appreciate having adults who can provide that extra one-on-one attention while he's working and taking care of the house. Her Bigs agree that spending time with Courtney is just plain fun, as well as beneficial for all of them.
"Little things make a big impression on kids that they'll remember for years," Sara notes.
"They spend the best time they can with me," Courtney says.
The family appreciates the support from community members who have donated Arizona State Tax credits to make possible matches like theirs, or who have participated in Bowl for Kids' Sake. Did you know you can be a Team Captain, Bowler or pledge a bowler using a tax credit eligible donation? Anyone interested in contributing financially, or in becoming a Big or referring a Little can call 928-778-5135.  YBBBS has many other ways folks may get involved. Discover today how you can change a child's life – and your own – for the better. Forever.