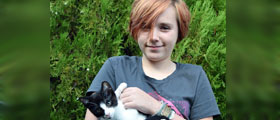 New freshman Gabby is enthusiastic about high school and all the choices she has for classes and activities. She says during the next four years she probably "will pick 90 percent of them." Gabby terms herself a charismatic person and her mom says she is pretty creative. Both are evident and a Big Sister soon would learn this by spending even a few hours each month with her.
At fourteen, Gabby is packing her schedule and handling it well. In addition to her studies – at the moment she aspires to become a neurochemist – she plays flute (named Theodore) in marching band. Gabby is impressed that the band director assigned a mentor to each freshman. She says that helped her get to know the upperclassmen, and increase her comfort as a high schooler.
Gabby spends every other weekend at her dad's place in Phoenix, but lives in Prescott with her mom and her mom's significant other, along with her younger brother. On Gabby's part, she would love to have a Big Sister "just for support and fun things to do" and to share her interests – from fine arts that include drawing, painting, writing and reading, to sports such as swimming, bouldering, kayaking and bicycle riding.
Anyone interested in being a Big to Gabby or another child, or in referring a potential Little, can call Yavapai Big Brothers Big Sisters at 928-778-5135, or if you can't be a Big, how about supporting a Big? The Arizona State Tax Credit is one way to do so. YBBBS always can use volunteer office help and has other ways people can be involved, as well. Go ahead and call. The rewards are heartwarming and endless.